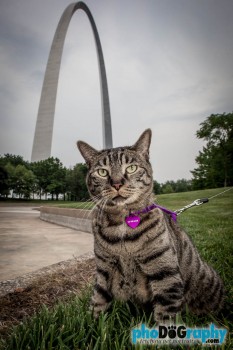 You Might Not Think Traveling with a Cat is a Good Idea…
I agree. But Mr. Mahj likes adventure. And unlike any other cat I've ever known, this intrepid animal is great company in the car, in hotels, and at tourist traps, as long as they're not too noisy.
We set up a nice cat bathroom, dining room and bedroom in the back of our rental vehicle and after a few hours of nervous pacing, Mr. Mahj the traveling cat settled in for his Big West Adventure,
We drove fast as far as St. Louis, MO, then visited Kansas, Oklahoma, Texas and New Mexico. After a brief stop at the Grand Canyon, Mr. Mahj the cat visited Arizona, California, Oregon and Washington before heading back East, stopping at Yellowstone Park, The Badlands, Wall Drug, and every tourist trap we could find.