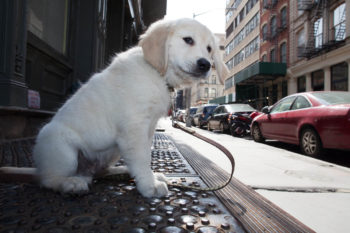 I love meeting new people and their dogs in neighborhoods all over the city for outdoor photo shoots. We all have a great time and quickly develop a rapport revolving around the dog as I take action photographs and portraits exhibiting a wide range of expressions with the city as a backdrop.
Barnaby is a Golden Retriever who was a puppy living in Tribeca (downtown New York) when I photographed him. He had the delightful energy that most puppies exhibit, plus impish yet soulful eyes and soft, soft fur. Floppy ears and a happy disposition-not to mention an enthusiastic and charming owner-made this puppy a lot of fun to photograph.
Kate Haviland wrote:
"I had just gotten my new golden retriever puppy Barnaby when I heard about Mark McQueen and PhoDOGraphy.  I was intrigued by the idea of capturing some fun and memorable pictures of Barnaby in our neighborhood before he grew into an adult.  I was also a bit concerned that given how young Barnaby was that it would be difficult to get good and interesting pictures of him with all the distractions of the city.
Those concerns were quickly put to restas soon as Barnaby and I met up with Mark.  Mark developed an instant connection with Barnaby that brought out his personality (it helped that he had treats in his pocket!).  Mark also went to great lengths to get a huge diversity of photos with interesting backgrounds, including lying on the concrete pavement while Barnaby charged at him for a treat.
Barnaby had the best time and you could tell he felt like a celebrity as people watched him being photographed around the city.  We both had so much fun during our portrait session and we are looking forward to doing another photo session with Mark now that Barnaby is an adult.  I am so glad I have these beautiful and whimsical photos of Barnaby as a puppy hanging in my apartment.  It was the second best decision I made – the first being getting Barnaby of course!"
I look forward to seeing Kate and a full-grown Barnaby again someday, and adding to their pet photo collection.