A Small Gallery of Chihuahua photos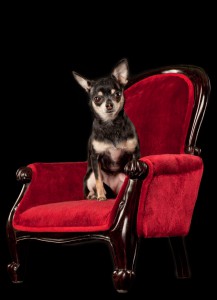 Named after the Mexican State of Chihuahua, where the breed was discovered, these diminutive dogs were considered holy in some pre-Columbian Indian nations, and they were popular pets among the upper classes.
They are descended from the Techichi, a slightly larger dog that was kept by the Toltecs around 900 AD.Unlike other toy breeds, Chihuahuas are naturally small dogs-the smallest breed in the world (all other "toy" breeds have been bred down from larger breeds).
Owners will tell you that Chihuahuas are one of the most gentle, loyal, and sweet animals you'll ever meet. And the AKC describes them as graceful, alert, swift-moving and highly intelligent.
Owning a Chihuahua involves a huge emotional investment, as they become very attached to their owners. While sweet and lovable, they can be temperamental and are not particularly good with children.
Other Chihuahua photos are scattered throughout my website. This breed seems to be very popular in New York's East Village.