West Highland Terrier and Westie/Lhasa Ipso Mix
These delightful dogs live in New Jersey and enjoy a spectacular skyline view of New York on their walks.
Hugo and Hana are joyful, friendly dogs who enjoy long walks with their thoughtful owner, Athena. Both dogs-and their owner- were a pleasure to work with. Hugo, especially, won my heart with his soulful, earnest face and patient, affable demeanor.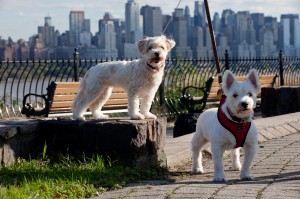 There are millions of photos of dogs in idyllic outdoor settings, and in baskets, wagons, etc. My outdoor work usually emphasizes the urban environment, mostly Manhattan. This time, it was great to get out of the city without losing sight of it.
To photograph small dogs and a distant urban view in one image often requires shooting in locations where the light on the dogs isn't great. When on outdoor safaris I carry a small light that I can place just outside the photo. That gives me more flexibility in positioning the dogs (when I actually position them. For much of my outdoor work, I let the dogs roam as they wish) without putting them deep in shadow.
Wide-angle lenses provide perspective with a lot of depth-of-field, but render distant scenes rather diminutive, so I try to mix in a few shots with longer lenses that compress perspective, making distant buildings appear bigger in the background.
Athena was kind enough to write:
"You have an almost psychic instinct about dogs and you brought out the best in Hugo and Hana's personalities.  Hugo's always been a ham in front of the camera but Hana's very shy and you were masterful in coaxing her out of her shell.  The evidence is in the pics, and everyone I show them to can't stop 'oohing' and 'aahing' at how wonderful they are.
"We may have created little monsters, though…after all the attention you lavished on them during our photo shoot, they now believe they're supermodels and won't get off the sofa for less than $10,000 a day!"
Do they have an agent?