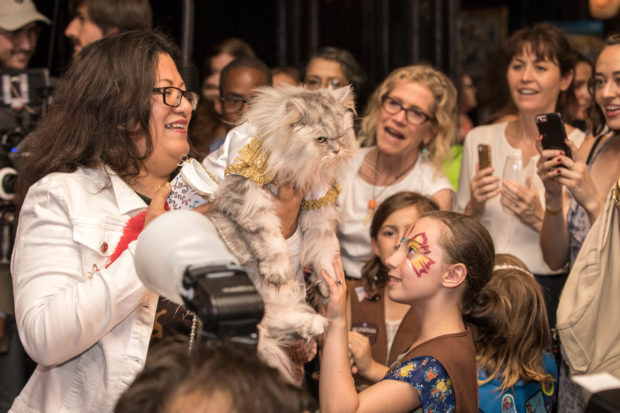 Our friend Ada Nieves makes amazing pet clothing (you may have seen her on David Letterman with some well-dressed rats). Her cat fashion show at the famous Algonquin Hotel raises money for the Mayor's Alliance for NYC Animals.
This year her big bruiser Martini and several other patient (for cats) models strutted unique outfits themed after TONY award-winning musicals. With "A Vicious Circle" painting as backdrop, these urbane felines carried the show with hardly a hiss, though they didn't look very happy about it (the model roster was packed with handsome but grumpy-looking breeds).
The Huffington Post did a story on the event illustrated (exclusively) with  phoDOGraphy photos.
A full house—including a gaggle of press—roared with appreciation.
Some adorable kittens were available for adoption outside the hotel.